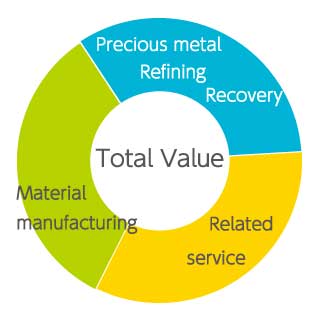 We clean the jigs of sputtering equipment and vacuum deposition equipment and recover precious metals.
Vacuum equipment (vapor deposition equipment, sputtering equipment) parts cleaning called precision cleaning is one of the important processes indispensable for electronic component manufacturing.
We have led the industry with our original stripping technology derived from precious metal refining technology.
As a result, the life of the shield kit in the vacuum chamber has been extended, which has greatly expanded the way to improve production performance and efficiently utilize precious metal resources.
As shown in the table on the right, we will respond to the needs of our customers based on the three values we create.
Collected precious metals can be processed and used as target materials and vapor deposition materials, making effective use of limited resources.